10 Most Wanted is a syndicated radio show with a difference.
Every night, Gav Richards plays the most requested hit songs and catches up on the latest entertainment news.
The show incorporates regular station namechecks, local idents, and full bespoke links recorded each week, so it always sounds at home.
Get in touch if you're interested in carrying the show on your station or have questions.
Jump to:
About Gav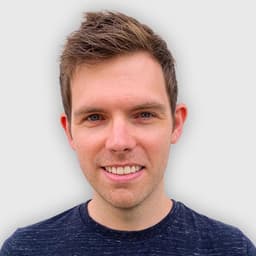 Gav was previously heard on the UK's Galaxy and Bauer networks.
He is also co-founder and CTO of Aiir, working with radio stations internationally to power their websites, mobile apps and studio interactivity.
Show details
UK Top 40 / CHR music, with appropriate "gold" tracks from the last 20 years.
4x 1 hour shows per week, Monday to Thursday.
3x commercial breaks within the show, plus time for one at the end. They can be variable in length if your playout system supports sending and receiving commands via TCP (most do) or set to a specific duration (2"30' by default).
Intended to air in the evening local time.
Available for syndication outside the UK where suitable.
Logs are available of the songs played in each show, including their specific TX time.
Customisation
When a station signs up to air the show, Gav will record a batch of bespoke lines / introductions that will be used throughout.
Every link is bookended with your station name or tagline.
One link per show can be fully bespoke for your station, refreshed weekly. Provide a script or bullet points.
The final link in each show can include a mention of the following show on your station, if up-to-date schedule information is provided.
Gav can record scripts ad-hoc where required for promos and station production.
Access to an affiliate portal will be provided, where you'll find useful information and resources. It's also where you can submit topical details for bespoke links, and subscribe to a mailing list to receive important updates.
How it sounds
Have a listen to a demo of the show:
How it works
The show is fully customised to fit each station, with local idents throughout, spoken references to the station name and slogan, and fully bespoke links included seamlessly.
This is possible because of how it is produced, distributed and played using "SmartVT", an innovative new voice-tracking platform.
Unlike other syndicated shows, 10 Most Wanted is not provided as flat audio files that you drop in to your playout system. Instead, you run the SmartVT app alongside your playout system, and the app takes care of downloading the show automatically and playing it at the scheduled time.
Every element of the show is played independently, locally on your machine. This means a separate version of the show does not have to be mixed down for your station, instead you'll receive the correct localised elements and they are played in the required sequence. These elements are cached, so anything that doesn't change from show to show (e.g. certain songs or parts of links) won't need to be downloaded again.
An important benefit of this approach for stations is that SmartVT can be configured to send information about the current playing track to wherever you require, for example to appear on your website and mobile app. Ultimately, the show shouldn't stand out as behaving different to any locally produced show.
For commercial breaks, SmartVT supports sending and receiving commands via TCP to your playout system, if it supports this. Alternatively you can automate based on the fixed length of each segment of the show, with SmartVT leaving silence while your system takes over.
Get in touch if you're interested in carrying the show on your station or have questions.